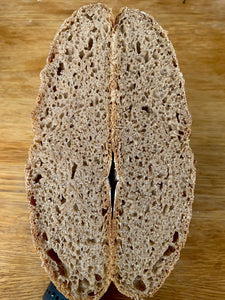 Rye's and Shine Sourdough Starter is ready to use for baking in only TWO DAYS after you receive it! The starter is prepared using a base of primarily 100% organic rye flour. It works great for 100% rye bread, or breads mixed with rye and white flour. Try using it to make a loaf of German rye bread! Simple instructions and recipes included.
  
Our Sourdough Starter is always made fresh prior to shipping and is taken directly from the batch of starter we use to bake our bread. When it arrives at your door, the Sourdough Starter will be dormant.  Simply feed it with a bit of water and flour and it will become bubbly and ready for baking your favourite sourdough recipes in 1-2 days. Just save a bit of the starter after every time you bake bread and it will last for years!
Every pack of Rye's and Shine Sourdough Starter comes with: 
- 1 portion of Sourdough Starter (4 tsp of dehydrated flakes)
- Our favourite sourdough bread recipe 
- Tips and instructions on how to maintain your Sourdough Starter for years! 

Once you feed it, the starter quickly becomes your own as the wild yeast adapts to your region and climate.
Please contact us at ryesandshine.sourdough@gmail.com if you have any questions.